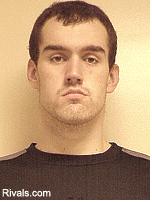 JERRY SOKOLOSKI'S PROFILE :
Height: 227cm / 7'6''
Position: Center
Born: 1983
Nationality: CAN-POL
Agency:
Career / Comments:
Weight 330lbs
Born: May 6, 1983
Nickname: Bigtimer/J-Smalls
Outlook:
A great prospect, thanks to his immense size; he never become a D-1 player, but he makes in trouble every opponent simply staying in the middle, and forcing all the opposite team to change their shooting arches;
Left-handed. His hand span is 12 inches.
As a fourth grader he was already 6' and by grade 6 had grown to 6'11".
Sokoloski has never driven a car because no conventional vehicle provides sufficient legroom and head clearance for a man of his size. His shoes -- size 22 or 23, depending on the style -- and clothes must be tailor-made. No bed is long enough, so he sleeps on two beds pushed together.
Some comments:
"When (Sokoloski) walks through the door, he fills up the whole doorway. You see 6-9 and 6-10 guys next to him, and they just look like twerps. You shake hands with Jerry, and his fingertips are up to your elbow. When he holds a basketball in his hands, it's like when you or I hold a softball."
When the fingers are spread, an average adult male's hand measures about eight inches from the tip of the smallest finger to the tip of the thumb. Sokoloski's hand span is 12 inches. His father stands 6-4 and his mother is 5-7, so there was no immediate genetic influence on Sokoloski's rise to 7-5.
"He's just a huge guy. This is Andre the Giant stuff. You just can't believe that a guy can be this big."
"Jerry's athletic ability is average, but he does have a chance because of his size. It'll just depend on how big his heart is, and how much he wants it."
-------------------------------------------------------------------------------

Career:
2000-2001: High School: Silverthorn C.I (Toronto)11ppg, 10rpg, 5bpg: limited to only 11 minutes per game because of his extra weight
2001-2002: Chinguacousy HS, Toronto
2002-2003: Father Henry Carr HS, Toronto
2003, summer: Bob Gibbons tournament ( South-East pumpnrun) ,Big Time High School Tournament in Las Vegas (Texas Blue Chip team)
2003-2004: lived in Tulsa, Oklahoma, practicing under professional coach-instructor Steve Bontrager
2004: Heartland Invitational Tournament Tulsa (HITT) - a three-day camp for NBA draft-eligible players, Declared himself eligible for the draft and worked out in Seattle Washington with Former NBAER Blair Rasmussen and worked out for Portland Trailblazers, Sacramento Kings, Seattle Supersonics, NJ Nets and Toronto Raptors went undrafted and is declared NBA Free agent
2005:
2006:
Jerry Sokoloski 7'6 In Newspaper Articles:
http://www.boston.com/globe/departments/photo/weekinphotos/wk121997/i...
http://www.muslimbasketballassociation.ca/USBasket%20-%20Canadian%20Basketball%202.htm
http://groups.google.ca/group/alt.sports.college.sec.kentucky/browse_thread/thread/266eab35cd669b60/e3a267b601073dcf?lnk=st&q=%22Jerry+Sokoloski%22&rnum=4&hl=en#e3a267b601073dcf
http://members.shaw.ca/harbord/heights.html
http://opakmet.com.pl/index.php?news=5610
http://www.usatoday.com/sports/basketball/draft/2004-06-23-center-spotlight_x.htm